JUSTICE: Feds pick Obama supporter to lead probe into IRS tea party targeting
EXCLUSIVE:
The Justice Department selected an avowed political supporter of President Obama to lead the criminal probe into the IRS targeting of tea party groups, according to top Republicans who said Wednesday that the move has ruined the entire investigation.
House Oversight and Government Reform Committee Chairman Darrell E. Issa, California Republican, and regulatory affairs subcommittee Chairman Jim Jordan, Ohio Republican, said they have discovered that the head of the investigation is Barbara Kay Bosserman, a trial lawyer in the Justice Department who donated more than $6,000 to Mr. Obama's 2008 and 2012 campaigns, as well as several hundred dollars to the national Democratic Party.
"The department has created a startling conflict of interest," Mr. Issa and Mr. Jordan said in a letter sent Wednesday and reviewed by The Washington Times. "It is unbelievable that the department would choose such an individual to examine the federal government's systematic targeting and harassment of organizations opposed to the president's policies."

Read more: http://www.washingtontimes.com/news/2014/jan/8/feds-pick-obama-supporter-lead-irs-tea-party-probe/#ixzz2pxCgcO4n
Follow us: @washtimes on Twitter
Al Qaeda controls more territory than ever in Middle East
updated 7:01 PM EST, Tue January 7, 2014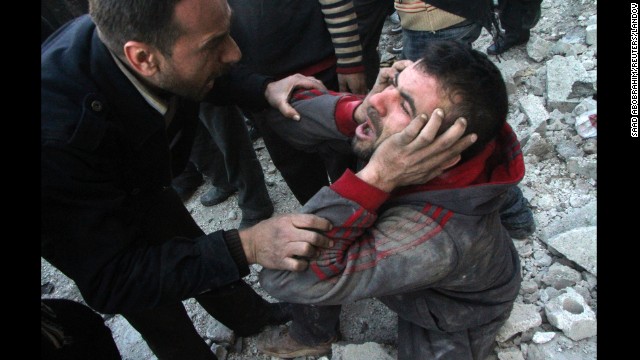 A man reacts after what activists said was an air raid by forces loyal to Syrian President Bashar al-Assad in the al-Marja district of Aleppo on Monday, December 23. The United Nations estimates more than 100,000 people have been killed since the Syrian conflict began in March 2011. Click through to see the most compelling images taken during the conflict, which is now a civil war:
Syrian civil war in photos
STORY HIGHLIGHTS
Al Qaeda affiliates made gains in Syria and Iraq in recent months
Peter Bergen says al Qaeda appears to control more territory in Arab world than ever before
He says the focus of al Qaeda leaders has always been regime change in Middle East
Bergen: There is push back against al Qaeda from Maliki regime in Iraq and from Syrians
(CNN)
-
- From around Aleppo in western Syria to small areas of Falluja in central Iraq, al Qaeda now controls territory that stretches more than 400 miles across the heart of the Middle East, according to English and Arab language news accounts as well as accounts on jihadist websites.
Indeed, al Qaeda appears to control more territory in the Arab world than it has done at any time in its history.
Iraqi ambassador slams Obama, praises Bush
Ambassador praises Bush's 'ownership' of relationship
Blast from the sun reaches Earth
Image of the sun on Tuesday, Jan. 7, 2014, from the Solar X-Ray Imager on NOAA's GOES satellite, taken just after the maximum emission of a solar flare. The eruption came from the middle of the sun and is directed toward Earth. This is the largest solar flare so far this year. Download here. (Credit: NOAA)

Forecasters at NOAA's Space Weather Prediction Center said a coronal mass ejection (CME) arrived near Earth at 2:32 p.m. EST, Jan. 9, 2014, which initiated the start of a geomagnetic storm. Effects from the storm are expected to continue through

January 10

, with minor disruptions to communications and GPS. The sunspot in Region 1944 produced the eruption at 1:32 p.m. EST Tuesday, Jan. 7, 2014, and remains active and is well positioned to deliver more storm activity in the next several days. NOAA's SWPC will continue to monitor the region for activity.