AES
[Somerset, NY]

power plant up for sale as unit continues to lose money
Cost of coal, sharp drop in electricity prices cited
Updated: March 2, 2011, 7:21 AM
AES Corp. is putting its coal-burning power plant in Somerset --
the largest property taxpayer in Niagara County -- up for sale.
With wholesale electricity prices dropping sharply over the last three years and the cost of the coal it uses to fire its burners rising, AES executives said the Somerset plant and three others in New York have become unprofitable.
Taxes also have been a drag on the Somerset plant.

A state carbon footprint tax that took effect in 2009 added about $10 million to the operating costs of the plant,

which also pays nearly $16 million in property taxes.
Calculate Your Nitrogen Footprint
Posted: Mar 07, 2011 7:52 AM EST
Updated: Mar 07, 2011 7:52 AM EST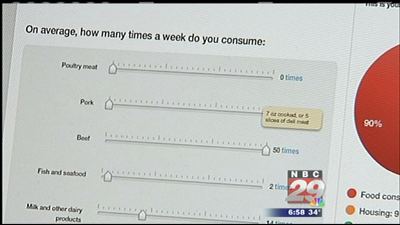 Enlarge this picture
Your eating habits can make quite an impact on the environment. Producing and consuming food is one of the major contributors to nitrogen pollution. A scientist at the University of Virginia has created a new web-based tool that measures your nitrogen footprint so you can take steps to reduce it.
KN:

When will the leftheads open their eyes.